23 Aug 2023
Give your business some TLC: refresh that strategy
We know that you don't have a lot of time in your day.
And we also know that IF you sat down to make a marketing plan, then it was a while ago, done once and long forgotten.
So how can we convince you to take another look? How can we convince you that it's worth your time?
Maybe by telling you that your audience has changed❓
Perhaps by showing you some of the latest research❓
Definitely by saying you could save money and increase your ROI, right❓
Let's refresh… Your Audience.
Consumers trends move FAST. We don't need to tell you that, all you need to do is look at the rise of shops like Primark where they swap out all the clothes with fresh new ideas every 4 weeks.
Your audience might not change as quickly as they change their clothes, but them changing, in combination with your brand goals shifting over time? It's definitely time to look again.
Make sure that your target audience profile is fresh, related to your business and it's goals, and that you are using the right avenues to reach them.
Let's refresh… Your Knowledge.
Marketing is constantly changing, with new research and changing consumer attitudes towards being targeted. It is always advised that you (or your marketing people) understand all that, so they can best advise you on what is going to get the most traction.
One thing we see neglected a lot is having an integrated approach to marketing. And we get it! You probably spoke to a specialist in one type of marketing and they are just advising you based on what they know (or in some cases assume). But when it comes to us here at LDM, we always want to get the best possible outcome for your campaign. And we know that means creating an integrated campaign.
When we say integrated, that means looking at all the marketing methods, and choosing a mix that will work together to reach your audience in the most effective way both long and short term. So…not just using social, not just using email, not just using mail, not just using billboards. If you want to get nerdy about it, here's a link to a great in-depth explanation from our friends over at Smart Insights.
The knock on effect of having this approach to marketing is best shown through it's impact on brand recognition. Think about it for long enough and you will realise all the brands you remember as "brands" fastest, are the ones that repeat their message consistently in many different formats.
Think Compare The Market (an example that you can read more about on that Smart Insights page). They perfectly blend TV, social media, billboards, physical memorabilia, and even visits to the cinema in their long running "Compare The Meerkat" campaign. There is no denying that the impact on brand recall from this campaign has been HUGE.
Let's refresh… Your Gut Feeling.
If you are worried about expense when deciding which marketing routes to go down, we have another piece of new research that might be useful…
JICMAIL have just finished a landmark study on the attention we pay to different types of ads. The results might shake die hard social media marketing fans….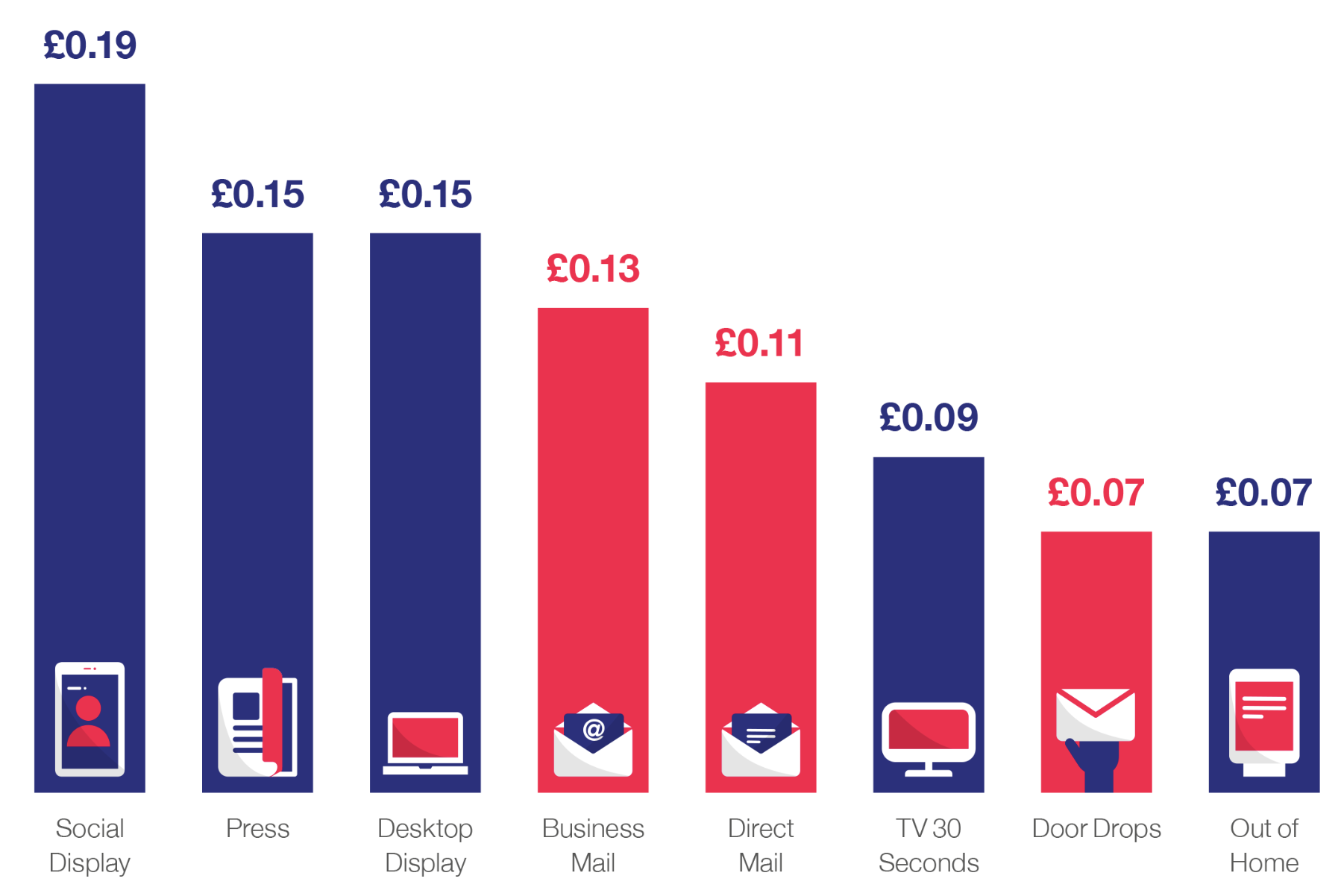 As you can see from the graph above created by JICMAIL, you pay a lot more for a minutes worth of attention when using social media than using mail.
So when you are thinking about creating a balanced study for your wallet as well as effectiveness, make sure you take the ROI for each method into consideration too!
Now. Are you ready to put your business first?
Let's get into it. Our team are ready and waiting to guide you through the process of marketing with mail. Just click here, give us a few parameters of the type of campaign you would be looking for and we can start the conversation!