01 Nov 2022
Why is GPS tracking important?
When looking for a door drop distribution partner, you might look at reviews to check reputation or compare prices across companies. The other key element to look out for is what type of GPS tracking is used – there is no industry standard for this, so let's break it down.
What is GPS tracking?
GPS tracking revolutionised leaflet drops back in 2016, giving the customer the ability to monitor their leaflet distribution campaign in real time. Joining printed marketing and 21st-century tech like this is a simple way to allow the planning of routes, monitoring distribution teams, and planning for future campaigns. Most importantly we think, it allows our account managers to update you on the progress of your campaign as it happens, and follow up with how it went on completion. Wondering how you will know your leaflets are actually being delivered and not just sitting in a warehouse or on the roadside somewhere? This is the magic tool that gets rid of that doubt.
The different levels of GPS tracking explained
It's been proven time and time again that GPS tracking is great. It gives you a chance to improve your marketing strategy for the next campaign and brings peace of mind if you are worried about the process. But not all GPS-tracking is born equal…
On-person GPS tracking
The ultimate in GPS tracking (and what we use here at LDM!). Since GPS tracking became available in 2016, you can best believe that we've been testing out all the options on the market.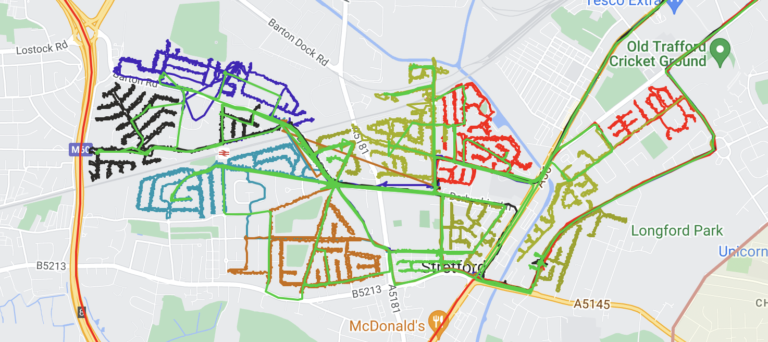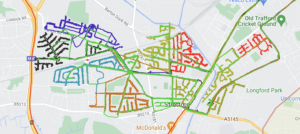 After all those years, we found this to be the most reliable, accurate type of GPS tracking. Because the tracker is placed onto the person rather than in the van or stuck on a bike, it allows us to see each of our team members walking along streets, to individual front doors. If our team decided to just drive up and down the streets not delivering any of the leaflets, we would know about it!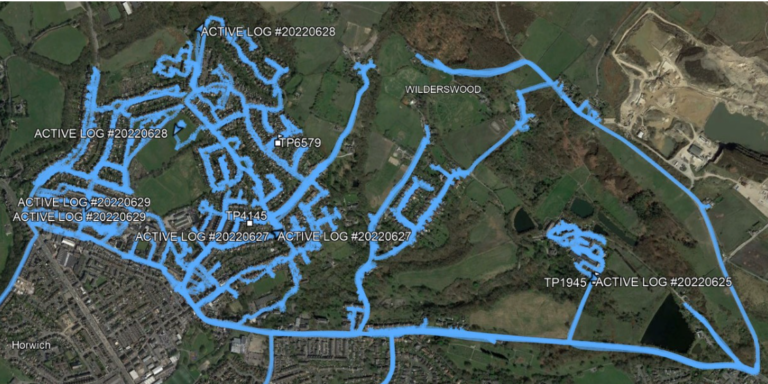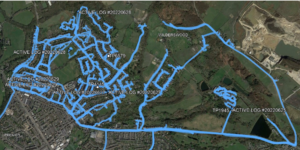 Our account managers can log in to our tracking systems to check in on the teams in real-time, to check that the distribution is being completed correctly. Typically, most of our clients are interested in receiving a GPS map of their campaign on completion and the images above are examples of what they would receive after their door drop has finished.
Interesting in booking a door drop campaign with on-person GPS tracking? Get a quote now!
Van GPS tracking
The GPS system is held in the vans (or other vehicles) that are used to transport the leaflets around the target locations. This method is a cheaper system, as only one GPS tracker is required. However, it doesn't ensure that the leaflets are carried to the doors of the location, only that a van has visited that location.
If a client queries whether a door drop was completed properly for whatever reason, this method would not allow us to confirm that each property was visited, and a leaflet was brought to each and every door.
No GPS tracking
Proceed at your own risk! At LDM we would never use a service that wasn't GPS-tracked. Ever. No exceptions. Even with any distribution partners we have worked with over the years, having tracking is the minimum bar they need to clear in order for us to trust them.
There are too many rogue traders around these days willing to take your leaflets, take your money, and run. And as a business that put people and customer experience FIRST, working with anyone even slightly dodgy just isn't acceptable. When we send your leaflets out into the world, we take the fact you are trusting us with your business seriously, and will never place them into the hands of anyone we would trust with our own marketing material.
So how important is GPS tracking?
GPS tracking is a key tool for leaflet distribution, building trust between businesses and marketing distributors. It can make your first campaign feel less overwhelming, can get rid of any scepticism you might have, and ensure that your campaign runs smoothly without a hitch.
Not all GPS-tracked door drops are born equally but when booking distribution with the LDM team, you can always rest easy knowing we take your business as seriously as you do. And that we only use the best tracking available to ensure we…. well…. deliver!
Still craving more information about GPS tracking? Read about the highest level of tracking we use: Track It 24/7, it's one of -if not THE- best pieces of software available right now.