01 Aug 2023
No junk mail 🙅
Time to address something that is often glazed over in our industry. "No Junk Mail" signs.
We hope it goes without saying that if you know LDM, you know we follow the rules set out for us be the advertising gods. So, as an independant distributor of door drop marketing, we will never post marketing through mailboxes that request to be left alone.
Our distributors are trained to spot "No junk mail" and "No advertising" signs from a mile off, so if you have one of those, you will never get those local businesses promoting their services. At least not from us.
We want to raise the standard for door drop
But unfortunately.. we can't say the same for other distribution companies. We're sure there are other good eggs out there, but from what we've seen on Twitter, others may not be as respectful as us: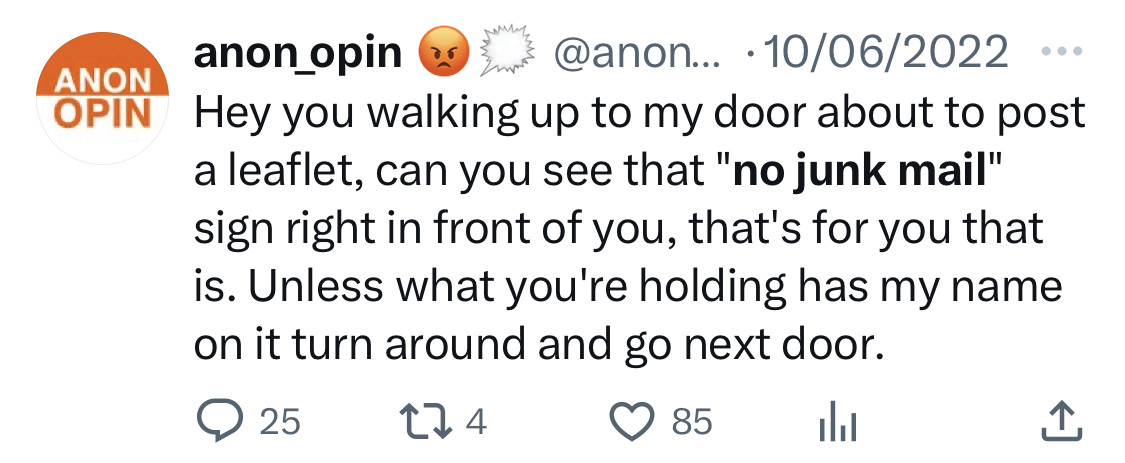 Receiver vs sender experience
As a resident, it is annoying to receive unwanted mail, but for the companies being posted – it has the potential to do serious damage to your brand. When we evaluate the success of a campaign, impact on your brand is something that shouldn't be overlooked. That's why we would never put perception of your brand at risk by intentionally posting your marketing to those that have those signs.
When you book in a door drop campaign with LDM, you know that your business won't be negatively affected by being posted where it shouldn't be. You are booking a marketing service that can be tailored to target those who would really appreciate learning about your business, so we don't want to ruin that by putting a bad taste in your locals' mouths.
The laws around door drop
Although there are no strict regulations in regards to door drop marketing in the UK (like there are in other countries such as the US) – there are some other elements you should be aware of as a business or a resident.
If you are currently using a service such as Royal Mail, you should be aware that residents will have to opt-out online, as unaddressed marketing material will be delivered regardless of signage. You can do this using their opt-out form here. You should also be emailing the DMA (Data Marketing Association) to request you don't receive unaddressed mail, AND register with MPS to choose to opt-out 🥵
As a brand in the UK right now, if you are using distributors that ignore "No Junk Mail" signs, ensuring you won't upset residents with door drop is a difficult job. That's why at LDM we keep it simple. If there is a no junk mail sign, we won't post.
Want to learn more about the differences between using a service like Royal Mail vs a distributor like LDM? Have a gander at this post we wrote about just that!