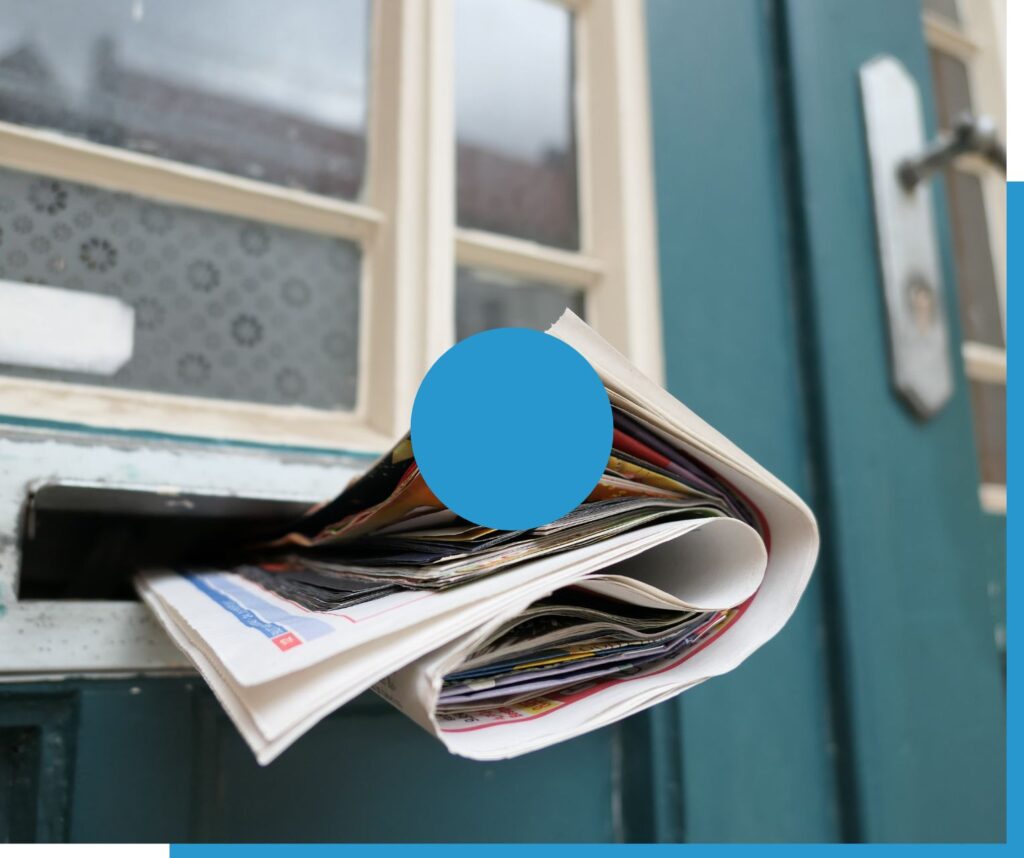 What is door drop marketing?
Door drop marketing is a direct marketing technique using non-addressed printed media to advertise your business. Otherwise known as leaflet advertising or leaflet distribution, door-drop delivery campaigns are an effective way of raising brand awareness, increasing conversion rates and creating brand loyalty.
A team of distribution agents will typically use a car or van to transport your flyers, magazines, leaflets or other printed media, and go door to door delivering in a postcode of your choosing.
Door drop prices can vary depending on your chosen time frame, method of delivery, and whether you need printing or design work. When completing a distribution of leaflets, the best door drop services will provide full on-person GPS tracking to monitor your campaign, at LDM this comes at no extra cost.
Does door to door leaflet distribution work?
But does door drop marketing actually work? we hear you ask! Well, you might be surprised to find out that door drop marketing campaigns have a higher response rate than one of those expensive TV advertising slots. In fact, door-drop response rates often outperform the industry average click rates for email marketing campaigns.
The success of your campaign can often be determined by the design of your print. Our marketing experts are always on hand to help guide the process, so give them a call!
Door Drop Distribution: what is the LDM difference
Door drop advertising combined with the high attention to detail that LDM brings to your marketing campaign. When it comes to leaflet distribution, we have teams across the UK, that have been vetted by our marketing experts for their efficiency and reliability. Our account managers are on hand to feed you real-time reporting as your leaflet campaign rolls out, and our data profilers will ensure that you reach your target audience.
However, the biggest difference you will notice when choosing LDM for your door drop distribution, is that we treat each client with a personalised, friendly approach. Each business has slightly different needs when it comes to marketing campaigns, we recognise this and act on it, and the results speak for themselves.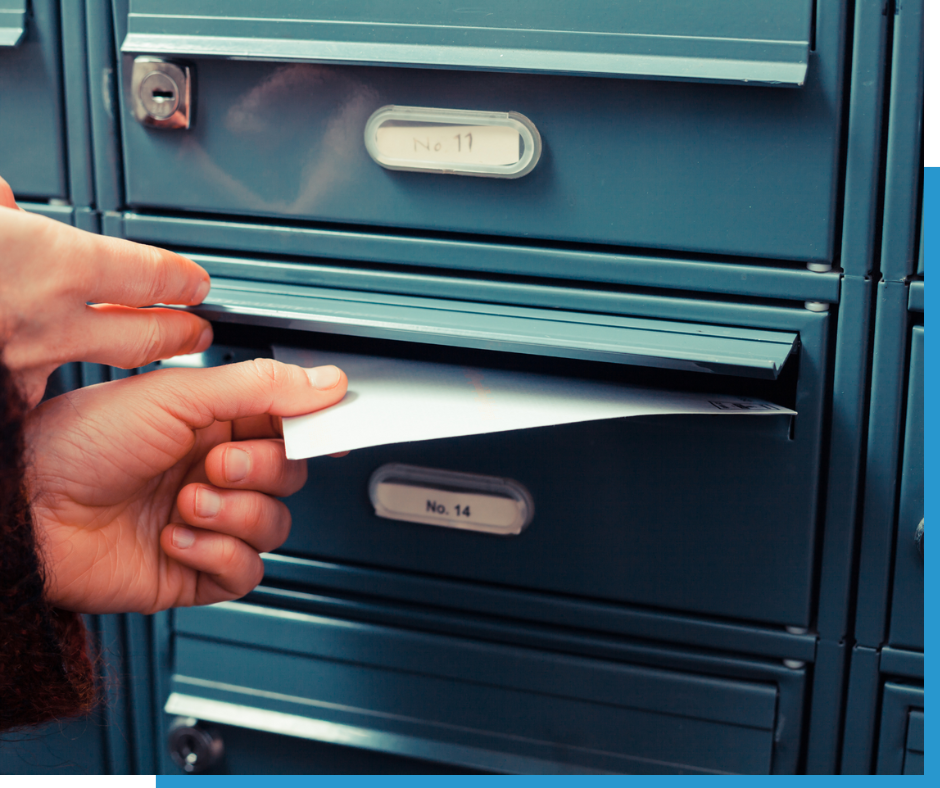 The highlights of planning a door drop with LDM
Trust
We are proud to be the best-reviewed door drop specialists on Google – check out our latest reviews!
Vetted Teams
We utilise our very own employed distribution teams, as well as our professional nationwide network.
Communication
Our account managers keep in constant communication, providing updates prior to, during and after your campaign completes.
GPS Tracking
Real-time GPS tracking enables you to monitor your campaigns, as and when they're being completed.
How Our Customers Feel About Us
Based on 104 reviews on Google
LDM did not disappoint...
From the moment I contacted them I felt at ease and was updated from the beginning to the end of our campaign. Their customer service was outstanding – answered all the questions I had and made everything run as smoothly as possible. Would highly recommend & will most certainly be using them again.
My account manager was really easy to contact and stayed in touch throughout the entire campaign. They organised our door drop easily and exactly as we wanted. We'll be using them again in the future.
I've recently used LDM UK for two door drop distributions and Sean and the team were fantastic! Really helpful in scheduling the drops in, selecting areas and keeping me updated on progress. I wouldn't hesitate to recommend them or use them again.
Fast, efficient & helpful...
Fast, efficient and helpful Service. LDM did a big leaflet drop for us which had instant positive results. Throughout they were friendly and were in regular contact to update me on their progress. I will definitely work with them again.
Will definitely be returning...
Bit skeptical initially if I would generate any business from flyers but happy with the return. The design of the leaflets and the detail on it were certainly a contributing factor in targeting my specific type of business. I thought that the fact they wear uniforms and are well turned out helped as well It made it more professional in my opinion. Due to my scepticism I did spot check with my clients to ensure they received flyers. Happy to report that they did.
Friendly, helpful and very efficient...
Friendly, helpful and very efficient. I had leaflets printed off through LDM which has lead to an instant increase in business. Would highly recommend these guys and look forward to working with them again in the future.
The response I got was phenomenal...
Super friendly and professional team, they went above and beyond to meet exactly what i wanted with my leaflet campaign. The response I got was phenomenal, and has enabled further growth and opportunities. By far the best distribution company I have dealt with, could not recommend them enough! Looking forward to working with LDM again.
Amazing team and amazing service...
Amazing team and amazing service. They did a leaflet campaign for me and it went brilliantly. Such a helpful team couldn't recommend them enough. Thank you guys keep up your amazing work.
Great service during the lockdown...
Great service from Sean and his team during the lockdown. Extremely professional, friendly and helpful. 19k magazines delivered quickly and efficiently under difficult circumstances. Couldn't ask for more. Thank you!
LDM have worked tirelessly to meet the high demands...
Craig and the team at LDM have worked tirelessly to meet the high demands I set out for them. I dropped 40k off to be distributed within three days as I was let down by another company, I was reluctant that this could even be achieved! But achieve LDM did. Can't recommend them enough and the tracking is a great addition. Thank you, see you again in June for the next drop!
Absolute 10/10 for LDM! Always a great services and the team are extremely helpful! Wouldn't use any other business to promote my businesses!
Would recommend them without hesitation...
We have used LDM twice now for a leaflet distribution in central Manchester, and would recommend them without hesitation. Not only do they do what they say they are going to do – post the leaflets – they evidence that with strong reporting. They are also super accessible, responsive, and proactive – communicating progress at the right time. Very effective and professional people.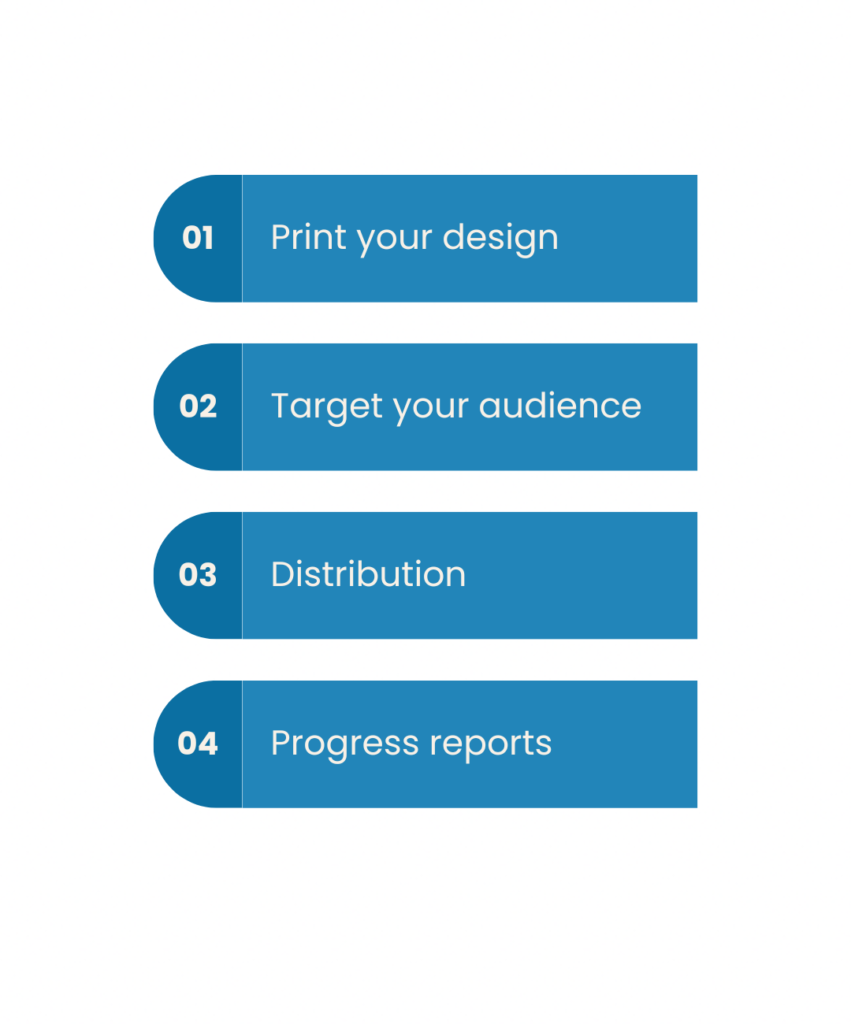 Stages of distribution
Printed your designs? If not, don't worry. We can print for you, with the discounts at the best printers. Already printed? We are ready and waiting to deliver your campaign!
Targeting a specific audience or location can really take your results to the next level. With our advanced stack of data technology we can narrow down your perfect audience!
We can organise to have the leaflets picked up from you, or dropped off at our central warehouse. They are then distributed by our vetted nationwide network.
You will receive campaign progress updates from our account managers throughout the distribution, or on completion.
Where do you offer door drop campaigns?
Over 10 years of completing successful door drop campaigns, we have built a network of leaflet distribution teams across the length and breadth of the United Kingdom. From Edinburgh to Southampton and everywhere in between, LDM is likely to deliver leaflet campaigns in your area.
If you want to get more information about a specific area, or postcode range, please get in touch with our team.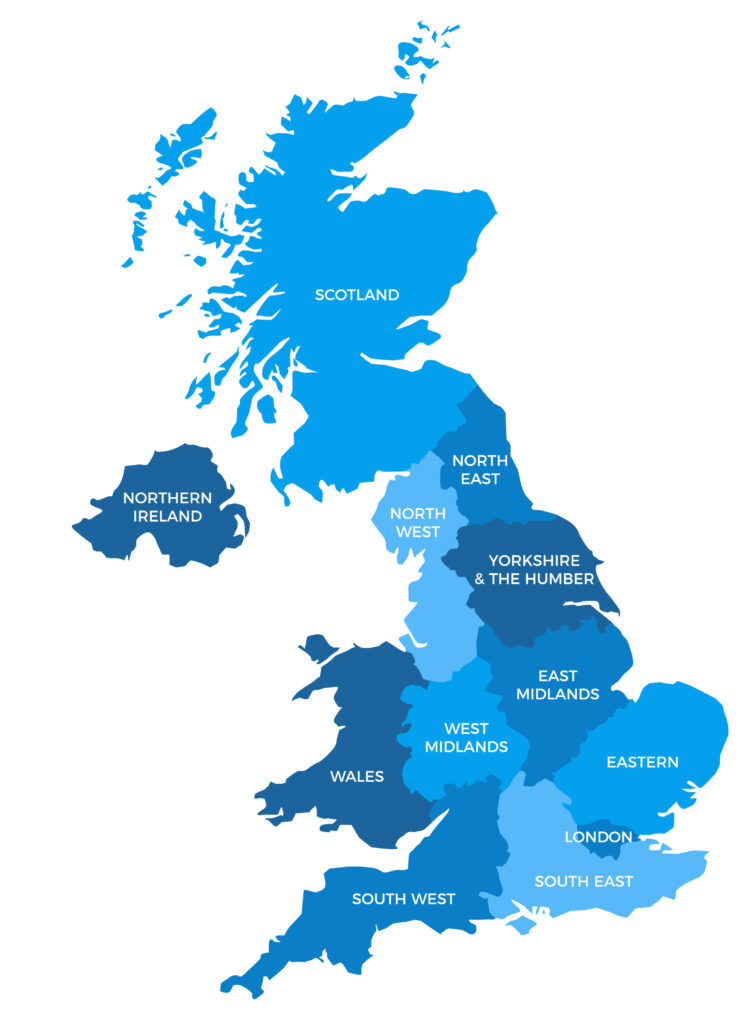 Want more tips to create a successful door drop campaign?
Book In Your Next Marketing Campaign Today!
FROMONLY
£49 per 1000
Our first priority is to listen to and understand your unique business goals. We then present a plan of action and bespoke solution.